Let us help you learn to speak English fluently and with confidence. We'll show you how we use English in real life, with jokes along the way.
This website is hosted by Vicki and Jay and we're a husband and wife team. Vicki is an English teacher and teacher trainer who has worked in Algeria, Japan, the UK and the US and given talks and run workshops in many countries. She is also an author and millions of students have learnt with the award winning course books and video courses she has written for Oxford University Press and Pearson. She's British by birth and now lives in Philadelphia.
Jay started out in television where he was a reporter and then a news producer for CBS in Philadelphia. Then he started his own film company producing, well, all kinds of things – advertisements, sports documentaries, training films for aviation and medicine. Jay's a multimedia pioneer and his training films have won awards including the Cine Golden Eagle and the John Muir Medical Film Festival. Apart from being our camera operator, lighting guy, audio engineer and best boy, Jay's an instructional designer.
We shoot the majority of our videos ourselves in our home and at locations nearby where we have permission. We get model releases from friends and acquaintances who agree to appear with us. Any extra stock footage, audio clips and images that we use are either in the public domain or licensed. We respect copyright and it matters to us that teachers and schools can use our videos without fear of infringing other people's rights. We love it when students and teachers watch, comment on and share links to our videos – so please go ahead. And we love to hear from you with your suggestions for new videos to make. So please keep writing!
Click here to learn how you can help us to help the world learn English.
We also make videos for other organizations. Please let us know if you or your organization might want to hire us.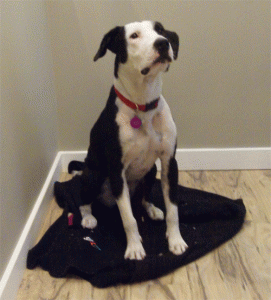 There used to be one more very important member of our team – Carter. Carter liked scratching, chasing balls and hanging out on set when we were making videos. Sadly, Carter died in October 2018.
Sometimes we planned for him to appear in our videos, but other times he sneaked in when we weren't  looking. He's much missed.